On January 18, the results of the "Innovation · Empowerment" 2022 annual Best Investment Value list, jointly initiated by China Virtual Reality Technology and Innovation Platform (CVRVT) and 《Finance and economics》 New Media, were officially released.There are 300+ enterprises participating in this selection, which are composed of securities companies, investment and research institutions, industry experts' recommendation and enterprises' self-recommendation. After 3 months 'registration, preliminary evaluation, re-evaluation and final evaluation, the organizer conducted comprehensive selection from multiple dimensions such as industry leadership, product innovation and market growth potential according to the recommended data. Finally, the annual list of leading enterprises in the industry with the most investment value and the list of innovative enterprises in the industry are evaluated.The list aims to identify the leading and innovative enterprises in the industry and show the important development process and technological innovation trend of the meta-universe industry. The companies on the list are outstanding representative companies in various fields, including ARVR hardware, social and gaming, digital people, chips, optical systems, AI, 3D engine creation software, industry applications, underlying technology and infrastructure.
EmdoorVR has the honor to be selected in the list of the Most Investment Value of the Meta-Universe -- the List of the Industry Innovative Enterprises in 2022 by virtue of its outstanding contributions in the field of Meta-Universe ARVR hardware.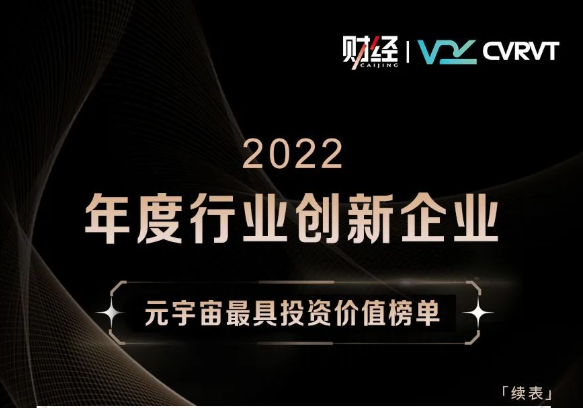 In early 2022, EmdoorVR first launched Iqiyi Dream in service of iQiyi, and then supported TCL to release a short-focus VST VR headset with mainstream configuration in Nanchang World VR Industry Conference in October, and released 6DOF MR All-in-one solution equipped with Snapdragon XR2 platform.At present, EmdoorVR is one of the few large-scale ODM manufacturers in China, and the shipment is in the forefront. It is believed that with the inclusion of EmdoorVR in the list of the Most Investment Value of the Meta-universe -- the List of the Industry Innovation Enterprises in 2022, more partners of the ARVR industry chain of the meta-universe will cooperate with EmdoorVR in 2023, and make contributions to our common meta-universe cause.In the future, EmdoorVR will continue to play an exemplary role as a benchmarking enterprise in the industry, always adhering to the mission of "making cutting-edge technology more approachable", creating more excellent technology products and solutions, changing human life with technological innovation, and promoting industrial reform with technological innovation.
[About EmdoorVR]
Founded in 2015 in Shenzhen,EmdoorVR focuses on the research and development and mass production services of XR products for near-eye display and three-dimensional space display and calculation.EmdoorVR continues to cooperate with and support excellent VR/AR brand companies and software and scene content development companies at home and abroad to develop innovative and mass-produced XR products, forming a competitiveness with XR product design, supply chain and production service as the core competence. Eenvironment is committed to bringing cutting-edge technologies such as three-dimensional display and spatial computing technology (from two-dimensional plane to three-dimensional simulation) and wearable computing technology (reasonable distribution of microcomputers and related devices on the human head to realize the wearable computing mode of mobile computing) into ordinary people's homes, making efforts to realize the freedom of the meta-universe as soon as possible.
EmdoorVR has been awarded the "National high-tech Enterprise", "National high-tech small and medium-sized enterprise" and other qualifications. In the domestic XR ODM company shipment ranking top. EmdoorVR is also a founding member of China Augmented Reality Core Technology Industry Alliance. Executive Vice President of Shenzhen Virtual Reality Industry Association; Vice President of Shenzhen Augmented Reality Technology Industry Association. At the same time, China Mobile smart home ecosystem, China Telecom XR ecological partner. And won the best ODM of the Year Qingting network, 2021 Qualcomm Ecological Partner Conference Outstanding XR terminal solution provider (with the famous Geer to accept the award), 2021 XR Business Value Potential Award, 2022 Annuity V Award Annual Excellent Industry Application Award. At the same time, EmdoorVR actively participates in the construction of VR industry standards and has participated in the formulation of a number of national standards and group standards.
At present, EmdoorVR is one of the business sectors of Emdoor Group, which is an internal incubator of industrial capital. It is indirectly invested by Shenzhen Venture Capital, Shenzhen Bao'an Investment Fund, Walden International, and Chinese Academy of Sciences.
EmdoorVR's vision is to enable more people to enjoy the wonderful product experience brought by near eye display technology earlier and at a more approachable price.