The 5th Shenzhen (International) smart display vision Expo opened in Shenzhen (Futian) Convention and Exhibition Center on August 23, 2023. The expo gathered hundreds of enterprises and experts from around the world to display cutting-edge technology applications and innovative products, and built a platform for communication, cooperation and innovation for the upstream and downstream of the industrial chain.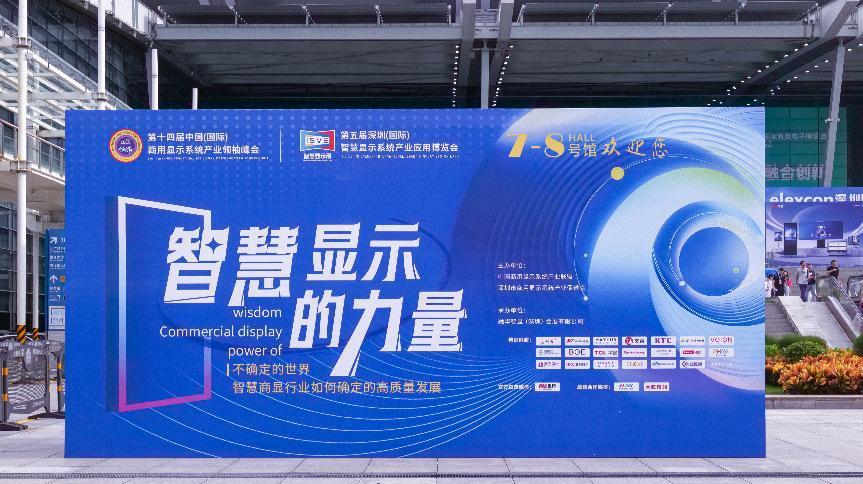 As a subsidiary of Emdoor Digital specializing in VR equipment, EmdoorVR and Emdoor Digital have the honor to jointly present booth 8T036 in Hall 8, share the latest products and solutions, and discuss innovative achievements and cutting-edge technologies with the commercial display industry.
With the continuous influx of new applications such as VST, voice interaction, and voice assistant, the use scenarios of XR technology are constantly expanding. The traditional "smart display" is no longer limited to a single physical screen, but is developing in the direction of virtual reality. We believe that in the near future, more and more people will use XR devices to enjoy movies and office fun.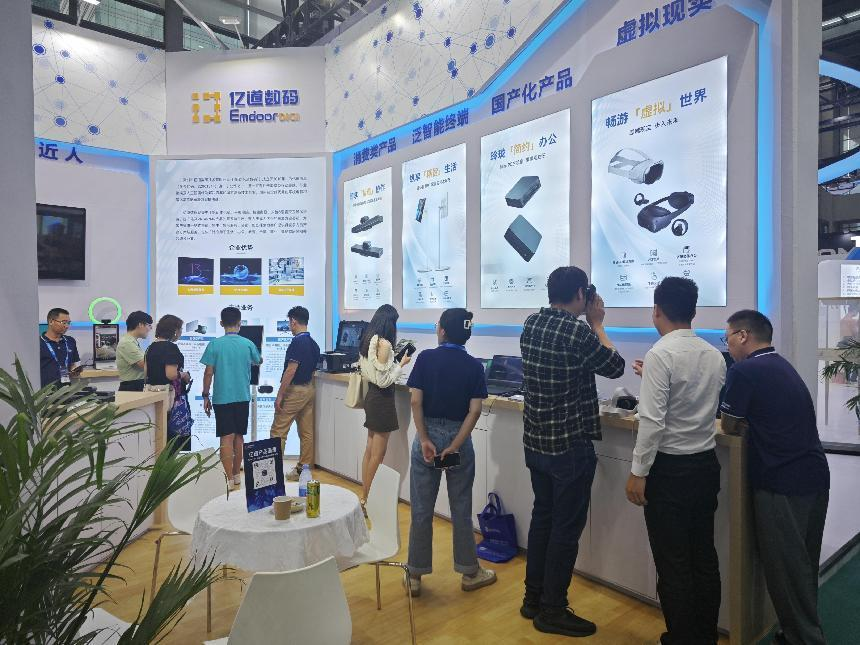 The EM-AX162, launched by EmdoorVR at this exhibition, is a striking monocular SLAM MR Entry machine. With a new appearance design and a new UI interface, it brings users a better experience. This device can not only turn 2D applications into portable large screens, realize smart office anytime and anywhere, but also support 2D/3D movies and game entertainment. EM-AX162 creates a new private space for users to work and play.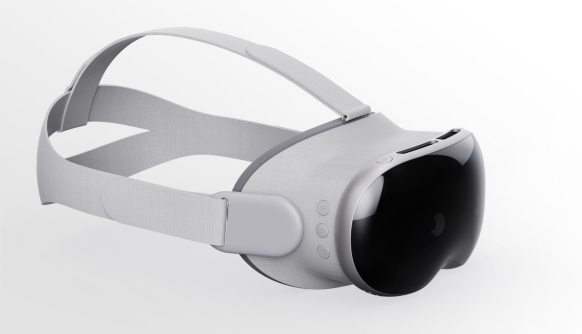 AX162 features Highlights:
1. Reliable Qualcomm MR Solutions: Qualcomm XR chip technology brings users an immersive, seamless virtual reality experience with superior performance, low power consumption, and unmatched accuracy.
2. Break through the boundaries, beyond the reality: VST technology seamlessly integrates digital content with reality, improves security, and creates a natural and comfortable feeling for users.
3.3D stereo shooting: Achieve a more realistic and immersive virtual reality experience through accurate 3D capture, and record the warm moments seen by your eyes with one click.
4. Smart office, seamless switching: Multi-screen function improves productivity, AX162 makes work more intelligent and efficient, meets different application needs, and easily switches multiple applications.
5. Comfortable wear, innovative design: based on ergonomics, to ensure long-term wear comfort, every detail is carefully considered, bring unparalleled immersion.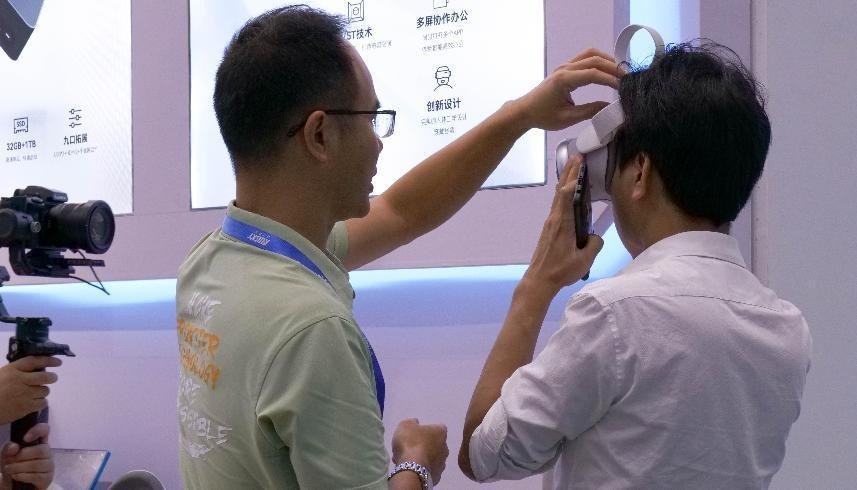 If users are eager to achieve deeper interaction with "smart display", then another 6DOF all-in-one machine EM-A863 will certainly be a choice. The product is equipped with a Qualcomm processor and paired with binocular HD RGB VST, allowing users to clearly view the real environment around them while experiencing the virtual experience. pancake's optical solution also enables the product to not only have a 105-degree field of view Angle, but also enjoy the 4K ultra HD screen. 6DOF's head-hand space positioning algorithm allows the audience to deeply interact with the virtual world, bringing immersive visual enjoyment to the audience and truly experiencing the good feeling of "immersive".
As a participant in the meta-universe field, EmdoorVR is honored to participate in this ISVE Wisdom Display exhibition. Together with industry experts, we look forward to the prospect of "Commercial display of large size, metaverse, intelligentized, enjoying the future", and have an in-depth understanding of the achievements and cutting-edge technologies of leading commercial display enterprises at home and abroad in research and development. In the future, EmdoorVR will continue to actively invest in the field of technology research and development, show dazzling light for the "meta-universe" in the field of "wisdom display", and constantly create more wonderful.
【About EmdoorVR】
EmdoorVR was born in Shenzhen in 2015, focusing on the development and mass production services of XR products for near-eye display and three-dimensional space display and calculation. EmdoorVR continues to cooperate with and support outstanding VR/AR brand companies and software and scene content development companies at home and abroad to develop innovative and mass-produced XR products, forming a competitive edge with XR product design, supply chain and production services as its core capabilities. Eking is committed to bringing cutting-edge technologies such as three-dimensional display and spatial computing technology (from two-dimensional plane to three-dimensional simulation) and wearable computing technology (reasonable distribution of micro-miniature computers and related devices on the human head to realize wearable computing mode of mobile computing) into the homes of ordinary people, and strives to realize the freedom of the meta-universe as soon as possible.
EmdoorVR has won the "National high-tech Enterprise", "National science and technology smes" and other qualifications. In the domestic and foreign XR ODM company shipments ranking. EmdoorVR is also a founding member of China Augmented Reality Core Technology Industry Alliance; Shenzhen Virtual Reality Industry Federation Executive Vice president unit; Shenzhen augmented reality technology industry Association vice president unit. At the same time, it was selected as China Mobile smart home ecosystem and China Telecom XR ecological partner. And won the best ODM of the year Qingting network, the 2021 Qualcomm Ecological Partner Conference Excellent XR terminal solution provider, the 2021 XR Business Value Potential Award, the 2022 Annuity V Award Excellent Industry Application Award, and the newly developed A863 in 2023 won the "Golden V Award Annual Innovative Hardware Award". At the same time, EmdoorVR actively participates in the construction of relevant standards in the VR industry, and participates in the formulation of a number of national standards and group standards.
EmdoorVR is one of the business sectors of Emdoor Information (SZ:001314), a listed company on the main board of Shenzhen under EmdoorVR Group. It is an internal incubator of industrial capital. It was previously indirectly invested by well-known investment institutions such as Guoke Jiahe of Chinese Academy of Sciences, Shenzhen Venture Capital, Shenzhen Baoan Investment Fund and Walden International.
EmdoorVR's vision is to enable more people to enjoy the wonderful product experience brought by XR near eye display technology earlier, in a more approachable way and at a more affordable price.